Zaloguj się (dla użytkowników forum)
Horror Online poleca
HOUSE OF WAX (2005)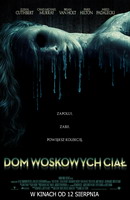 Rok 2005 to chyba najbardziej burzliwy okres w tworzeniu wszelakiej maści remake'ów (m.in. "Boogeyman", "Amityville Horror"). "House of Wax" to kolejny horror, który zasilił szeregi odświeżonych sprzed lat hitów. Czy i tym razem będziemy mieli okazję do narzekań?
Horror Online 2003-2015 wszystkie prawa zastrzeżone.
Kopiowanie fragmentów lub całości opracowań, wykorzystywanie ich w publikacjach bez zgody twórców strony ZABRONIONE!!!
- - - -